9 Expert Tips On How To Open A Cafe 
Posted by ANDREA DOLEGNA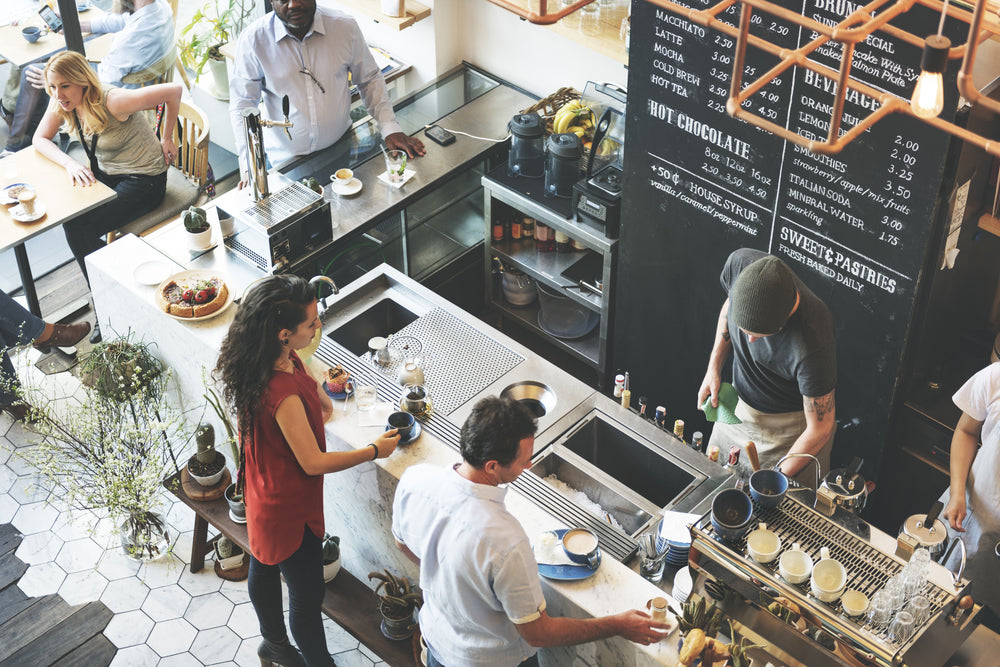 Do you love bringing a smile to people's faces with a good cup of coffee? Have you considered starting your own café? Starting their own café is a dream for many people. However, more often than not, it remains a dream as people get busy with their lives.
In recent years, Australians have warmed up to the café culture. The sales at cafes and coffee shops are growing tremendously. It is estimated that Australians are likely to spend more than $9.5 billion in 2023 in coffee shops and cafes. This means there's even more reason to consider opening your own café.
If you have been thinking of starting your own coffee shop and running it successfully, keep reading this guide on how to open a café.
How Much Money Is Needed to Open a Small Café in Australia?
When it comes to opening a small café in Australia, you should know that it's going to take a considerable amount of capital. However, even if you don't have the money, there are good chances for you to get approved for a business loan to get things going.
You have 2 options: buy an existing café or start your own from scratch.
Buying an existing café means that you have everything needed to run a coffee shop such as equipment, various coffee tools, staff, stock, rental contracts, suppliers and location. Existing cafes are available in a wide price range that could be as low as $200,000 to more than $4 million. Everything depends on the location. It is recommended by the Australian government to have at least 6 months' worth of expenses before you begin a new venture.
What To Consider When Opening A Café
If you want to start your own café, you will need to consider:
1). Rent
Rent is often the biggest expense and it varies considerably depending on the location. For example, you could rent a place in Melbourne for a yearly rent of around $20,000 but you would have to pay more than $60,000 annually for a smaller place in other parts of the city.
2). Equipment
Commercial coffee machines tend to be more expensive but also longer lasting as compared to machines designed for home use. You will need to get a single machine or multiple machines depending on the number of customers you expect. Similarly, you will also need to invest in refrigerators, grinders and other appliances.
3). Stock
You would need stocks of ingredients to make coffee including coffee beans, milk, sugar, coffee cups and other things such as napkins.
4). Staff
You would need to hire staff to take care of various tasks. Staff costs will depend on the hourly rate for baristas in your part of the country.
How to Open a Café: Tips and Tricks
If you have finally decided to open your own café, you should understand that it is not for the fainthearted. You would have to spend considerable time and money in setting up and growing your business. 
You're not going to get a salary at the end of the month. You are responsible for your own finances and your café's finances but it is going to be a rewarding experience. Here's everything you need to know about setting up your own café.
1). Research
Research goes for any business including a small café. You would need to research the industry and understand what is needed to set up and operate a small café successfully. It includes the time you need to spend and the resources you will have to invest in the café. 
Begin by visiting lots of cafés in various locations in your city to get an idea of different types of café's, how café owners make money, the type of clientele you are expected to serve, their particular needs, the busiest time of the day, menu offerings, price points and other such things.
2). Have A Vision
Once you start researching cafés, you may have a better understanding of factors such as themes, photos, menus, pricing and other such things. The goal of researching such things is to develop your own vision. 
It's worth noting that you can't cater to everyone. This is why you need to have a clear vision on the type of clientele you want to serve. It will help you set up a solid foundation for your business.
3). Business Plan
Don't skip your business plan. When you write down your business plan, you will really understand what it is going to take to set up and run a successful small café. 
In your business plan, you should define the vision of your business, analysis of the local market, staff members, marketing plans, the investment needed for your business, financial projections in terms of profit and loss as well as cash flow, leasing strategy, possible locations and so on. 
In short, your business plan should clearly define the projected cash flow and revenue in the near future and how you are going to prepare for it. Your business plan is going to take some time but it is the most important part of starting a business.
4). Location
When it comes to coffee shops, everything depends on the location. Don't choose a location based on your gut. Go to a few places you are considering and spend some time there. Look at the number of people moving about, available parking, visibility of the location, foot traffic, demographics of people and other such things. Don't forget to take a look at the competition!
Once you finalise the location, get in touch with the landlords to fully understand the lease details, terms of the document and other important details. Don't sign anything before talking to a specialist lawyer.
5). Suppliers
Begin by making a list of the supplies you are going to need such as coffee beans, milk, fresh produce, groceries, bread, coffee stirrers, syrups, teapots, napkins, cups and so on. Make a detailed list and start working on getting suppliers. 
Search online and you should be able to find several suppliers. Research them carefully. If one of your friends is already in this business or your friends know someone operating a café, they could help you with the suppliers.
6). Equipment
There are several options you can consider when procuring equipment for your café business. For example, you could buy it outright or lease it. Some coffee roasters also provide coffee equipment. Regardless of your equipment supplier, make sure it is of high quality and likely to last a long time.
7). Design
The design of your café plays a crucial role in attracting customers. The design should be based on the demographics in the region. This is why market research is essential to find the type of clientele you can expect to draw to your café. 
The key is to not try and please everyone. Having a clear focus and vision and the design of your café should reflect that vision. In addition to the aesthetics, you also need to pay attention to functionality. 
You may want to utilise the services of a professional Internet interior designer to put everything together. It is also time for you to come up with a menu and pricing. Ideally, you should have only a few killer options though you may also offer a large menu. As far as the pricing is concerned, the rough rule of thumb in this business is to keep the costs of the ingredients to a maximum of 35% of the retail price.
8). Hiring
You will also need to hire staff to run your business. If you are just starting and are capable of taking care of everything in your café, you may want to defer hiring. However, it is better to hire experienced staff members right at the beginning if you expect a large number of customers right from the start.
9). Marketing
Regardless of the location, you need to market your business. Make use of social media platforms such as Instagram, Twitter, Facebook, Pinterest and others to attract customers. Don't forget to claim the Google Maps listing. Claim your business pages on TripAdvisor and similar websites. Prepare a marketing plan and use happy customers as your brand ambassadors to attract more clients.
Final Thoughts
Overall, it's not easy to start a small café. It requires a lot of work and you will have to jump through a lot of hoops to get things started. Even after successfully setting up your café, you will need to spend considerable time on operating and marketing it. 
With that said, the rewards are worth it. You now own a café. You get to put a smile on the faces of your customers. Starting and running a small business is never easy but as they say, it's  all about the journey.
Get Your Coffee Supplies & Tools from Dolo!
Dolo Coffee Supplies is focused on helping individuals get that perfect cup of coffee. We offer a wide range of professional barista tools and are also the official Australian distributor for several global brands. We offer a wide range of high-quality coffee equipment at affordable prices. Moreover, we have considerable experience in the coffee industry and are keen to help entrepreneurs bring their visions to life.
Please give us a call at +61 7 5576 2459 to learn more or
leave an enquiry
 or shop below
. Collection 2019 Sale 70% Off Title for image